 He Wears His Sadness
by Tuesday Michael
There's a boy I know. He's funny, sweet and unpredictable, but he always wears the same thing. No, not his black clothes, not his once-white hat and not even his oversized hoodie. He always wears Sadness. A deep kind of Sadness that weighs on his soul. A Sadness he thinks will never leave him. I see him trying to hide it, trying to fight it. I also see him losing the fight. Every day that he wears his Sadness, his eyes shine less, his smile weakens and he loses a piece of himself, I reach out to him, letting him know that I see the Sadness he always wears. I recognize its icy grip around his heart, I recognize the pain he's hiding. I know it all too well. Little does he know, I wear the same thing too. I always wear my Sadness. Maybe we can help each other put the Sadness away. Not for good, but for long enough to get through the day. 
© 2019 Tuesday Michael (Zoe Kashey) & Write Around Portland, from our 57th anthology, Close-up Mirrors/Los espejos de cerca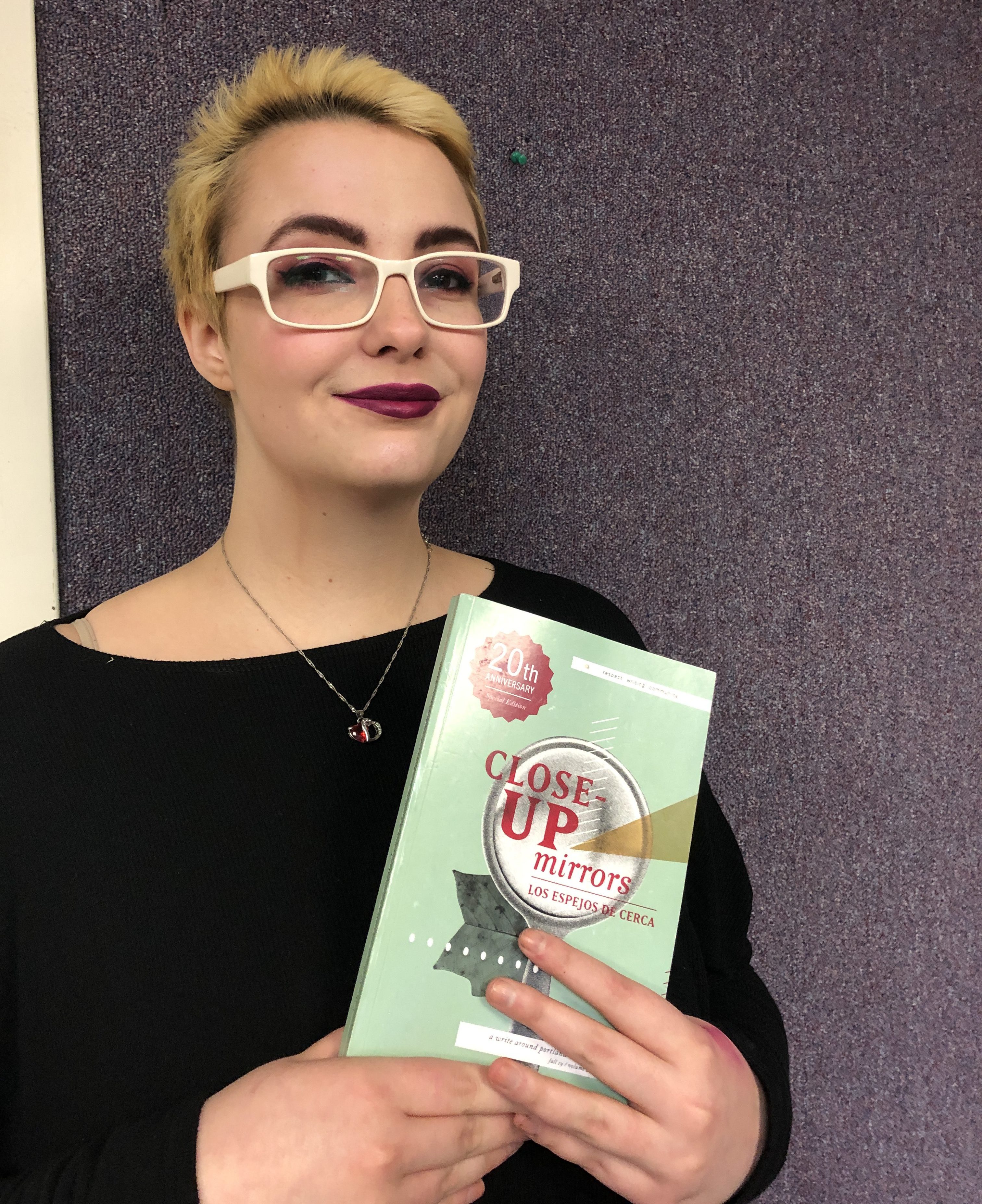 Featured Writer: Zoe Kashey
Interview with Featured Writer Zoe Kashey
I found out more about my best friend through the Write Around Portland workshop than I had from just hanging out with him.
Interview by Sarah Weller, Program Manager
Zoe Kashey, 20, spent most of elementary and middle school traveling with her mom, who served in the military. Through that experience she had the opportunity to be exposed to a lot of different kinds of people and feels like that has helped shaped who she is. She spent her high school years with her father in Kansas before returning to the Portland area to figure out what was next. She loves writing, drawing and octopuses (with tattoos to prove it!). Zoe participated in our Fall 2019 workshop at Springdale Job Corps Center, where she is enrolled in their Office Administration Program. 
How did you first hear about the Write Around Portland workshop? What drew you to saying yes to joining? 
John [Write Around Portland's partner at Springdale] made an announcement during one of our morning meetings. I had always dabbled in writing but I wanted to get better at it and get back into the groove of it because I had dropped it for a little bit. One of my other friends at the time said, "I want to write a story too, so let's do it!" He ended up dropping out of the program after a week, but I stuck with it. 
What was it about the workshop that you liked? 
I really liked how it was really open and you could write about anything that you wanted to. I'm one of those people that work really well off of a prompt. I can freewrite if I have the time, but if you're like  
write me something, write me something, I need a prompt. It was also nice to hear how everyone else interpreted that prompt compared to my own. It was really cool.  
In addition to liking the prompts, were there other pieces of the workshop that you especially enjoyed?  
I honestly just remember the prompts and I remember being excited to share my stories with my friends.  
What was it like submitting something to be published in the anthology? 
I was really nervous! I knew that everyone was going to get a story published, but there was still that nagging feeling of no you probably won't just because I'm not super confident in my writing yet. I chose three pieces that I was the most proud of and I'm really happy about the one that got published.   
I'd love to hear more about that piece. Was it something you had been working on? What inspired it?  
All throughout the entire workshop, I had a friend who was having some issues adjusting to the life here. He was off of his medication and he was really starting to wear down. I tried my best to support him but it didn't really help. He ended up going home not long before the book release party. I was able to send him the story though. He inspired a lot of the things that I wrote just because I'm not very good at vocalizing what I want to say, but if you give me a minute to write it down, then it makes more sense.  So, I was able to do that, and he was able to see that I did genuinely care about him.  
So the workshop allowed you to create a deeper connection with him? 
Yeah, just a little bit.  
What was it like to go to the reading and read that piece in front of a group of strangers? 
I was in theater growing up so performing or being in front of people wasn't as nerve-wracking as I thought it was going to be, but sharing my story was a little bit scarier knowing that my mom was in the audience. My mom, my brother, my sister, my boyfriend and his family were all there, so it was more nerve-wracking than sharing it with strangers. I knew my boyfriend would be supportive but I\'m glad that my family stuck through it and were able to hear my story. 
Do you feel like they got to see another side of you [at the reading]? 
My mom got to see the side of me that genuinely cares for other people. I'm not apathetic but sometimes when I'm focused on moving up in my life I tend to come across as apathetic. I care, I just can't do anything about it. So now that she knows that I am affected by the people around me she is more proud.  
You mentioned that you liked hearing how other people in the group took prompts in different directions in their writing. Was there anything about getting to write with your peers and hear people stories that felt special? Did you get to see a different side of people? 
A lot of us, even though we said we were treating our pieces as works of fiction, we wrote about things that were bothering us or things from our past.  So there were a couple of people that were like, Wow I didn't realize that you've gone through something like that, I have too. So it strengthened the bonds that we had. I found out more about my best friend through the Write Around Portland workshop than I have from just hanging out with him.  
What would you say to other students who might be interested in taking a workshop? 
Just try it out. Go to at least one day and try it out and share at least one piece. You may not think it's very good but you'll end up forging a bond with somebody—either about how much you think the workshop is not worth your time or how much you actually enjoy writing. So one way or another you\'re going to walk out with a new perception. 
Is there anything from your workshop experience that you feel like you will carry with you as you continue with Job Corps or into your future? 
To take time to write every day. I actually started using Reedsy Prompts which is an online prompt giving tool and so through that I've written four or five stories. They also have contests; I haven't won anything yet, but I'm submitting pieces.  
So your workshop experience prompted you to keep engaging with writing? 
Yeah, I knew I liked writing, but I kind of forgot. I have a little bit of bipolar depression so sometimes I just don't do anything, and there was a period where I wasn't doing anything for a really long time and I kind of forgot all of the things that I like. Being in a new environment and just trying to better my life in general, I'm trying out this writing thing. It reminded me that Oh, hey! You like to do things. 
Was there anything about how the workshop was structured that made it feel more comfortable or easier to put yourself out there? 
High school theater got me used to standing up in front of a stage and just screaming so there's not much that I\'m afraid to do. The first day was a little nerve-wracking because I don't know these people very well and now I have to share my writing with them. But after we got over the first day it was a lot smoother. 
Is there anything else that you would like to share either about your workshop experience or about writing in general? 
At the reading probably the best part of it was afterwards when we were all milling around, there were a couple of people who came up to me and said, Oh your story was so great! I got signatures from people because I really liked their stories. One of the writers wrote a piece about being in a hospital room and that one was so powerful. Maeve's piece that inspired the title of the book was so good and then Rat Cola and Madeline signed their pieces because we were in the same workshop together. It was really great because I really liked my piece but I didn\'t think the other people were going to be that impacted by it. They were and it was crazy! I mean you can post stuff online but if it\'s not Edgar Allan Poe worthy no one's really going to comment on it. But if you share it in person that\'s something entirely new and something I really recommend. Just go to a poetry reading at a Speakeasy or something like that and Oh, man!  
Would you recommend a Write Around Portland workshop to other people? 
Oh, Absolutely! We just got a new group of people coming in, and two of them are writers so I'm actually going to talk to them about getting together and writing once a week and sharing our stories and tell them about Write Around Portland. I do work–based training and I told my job about Write Around Portland because it's at a retirement community so that would be really fun to have a workshop there too.  
Love it!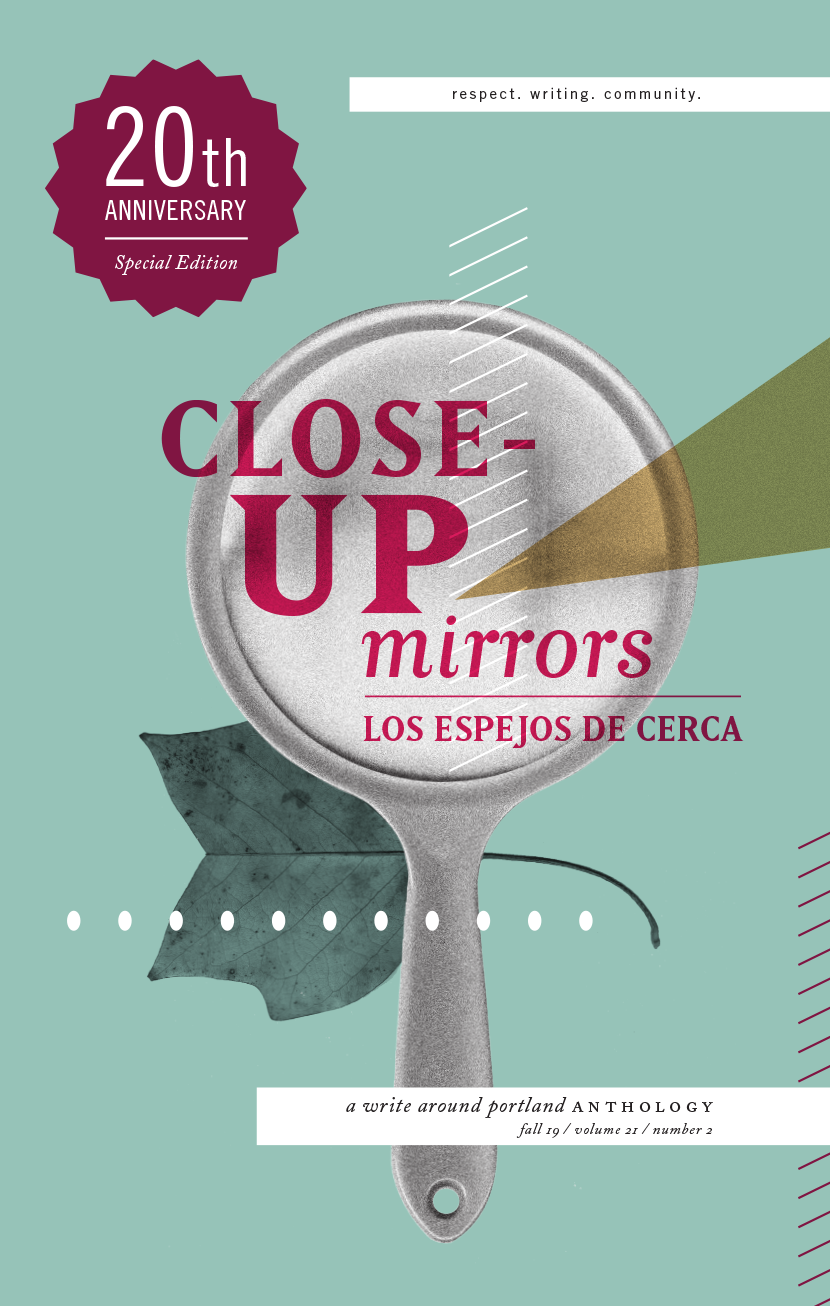 Publications
Write Around Portland publishes and sells anthologies of participant writing at the end of each season of our free workshops in partnership with community organizations. These professionally-produced books provide participants – many for the first time – the opportunity and satisfaction to see their words in print, while providing the public the opportunity to read powerful stories and diverse voices.
Books now available for purchase online! Books are also available for $12 at local bookstores and through our office (plus postage and handling, if mailed). Some anthologies may be found at Multnomah County Library branches. Call us at 503.796.9224 for more details.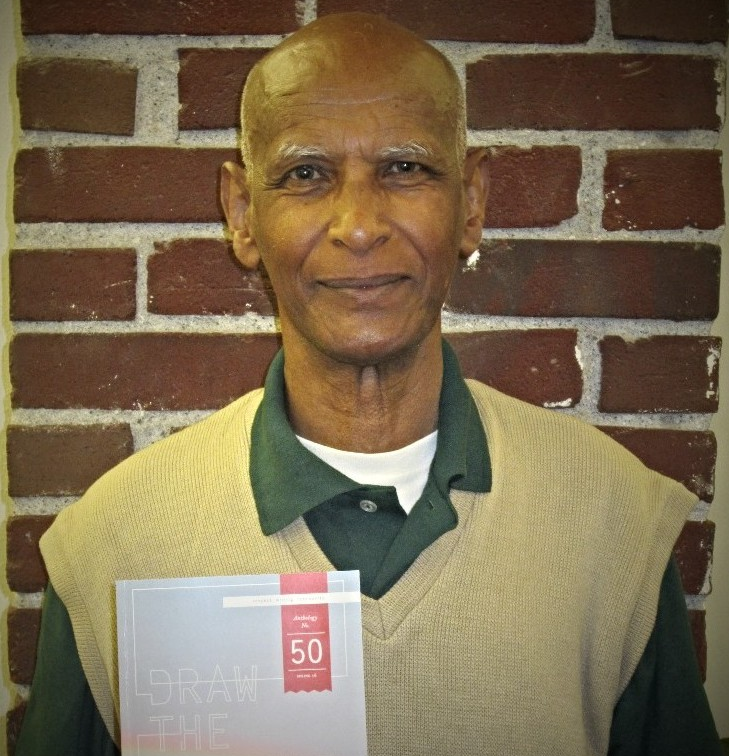 Past Featured Writer Interviews