 COMMUNITY READING AND BOOK RELEASE!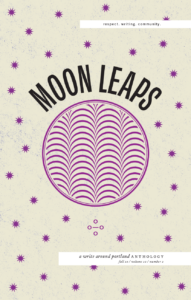 Wednesday, December 14th
Doors at 6pm, program at 6:30pm

Please join us for our next Community Reading and Book Release where participants from our Fall in-person workshop season will read their published pieces from our 59th anthology, Moon Leaps. Copies of the anthology will be available for purchase for $12.  

Where: First United Methodist Church, Collins Hall, 1838 SW Jefferson St, Portland, OR 97201 located at the Goose Hollow MAX stop.
Admission is FREE. Building is ADA-accessible. For accommodation requests please contact us at info@writearound.org or 503-796-9224 within one week prior to the event. Click here to RSVP!
Cover to Cover: Word play! A mini-workshop
In association with Portland Book Festival's Cover to Cover event series…
Write Around Portland presents Word Play! A community writing frenzy featuring prompts and exercises from our renowned workshop model rooted in respect, writing, and community. Led by a trained facilitator, participants will have a chance to write, share, and stretch their literary muscles. This FREE mini-workshop will feature group writes, mini-writes, speedy writes, and more! Masks are required. 16 and up. All levels of writing experience are welcome! Space is limited to 15. Registration required.
Date/time: Wednesday, November 2nd, 6:30pm.
Location: Two Rivers Bookstore, 8836 N Lombard St, Portland, OR 97203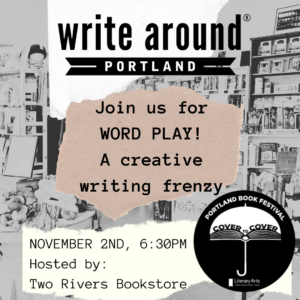 Raise Your Pen 2022 was a success!
Thank you for an unforgettable evening of poetry, good eats, and community!
Location: Oregon Contemporary in North Portland
This event took place on Friday, October 21, 2022

Community Readings
Twice a year, during our regular programming, Write Around Portland holds readings featuring participants in our free community writing workshops. Our readings promote respect for diverse groups and provide an opportunity to hear the powerful stories of gifted writers in our workshops. Few Portland events include so many diverse voices. Readings are free, ADA-accessible and open to the public.

Thank you for a wonderful Spring 2022 Community Reading & Book Release Party!
When: This event took place on June 4, 2022.
Where: The Yard at Taborspace, 5441 SE Belmont St, Portland, OR 97215
Cost: Free!
Our first public event since before the pandemic! Writers read their work from the last two years of remote and in-person workshops. These powerful pieces are featured in our latest anthology, Gold and the Dust which you can purchase here.