Creative Writing Workshops for all
Prompt
If you're looking for accountability and community, join a Prompt workshop!

Next Prompt Workshop
Theme: Family Stories & Biographies
Tuesday evenings starting April 25
8 sessions, 7:00-8:30 PM
Offered virtually on Zoom
$195-$395 sliding scale fee*
Please pay what you're able, but at least $195: Your workshop fee directly supports our free writing workshops in low-income housing communities, correctional facilities, hospitals, schools, treatment centers and other social service agencies.
*We have a limited number of free spots available in each workshop for past participants or people experiencing financial hardship. Email Leah at lmiddleton@writearound.org to reserve a spot or sign up for our waitlist.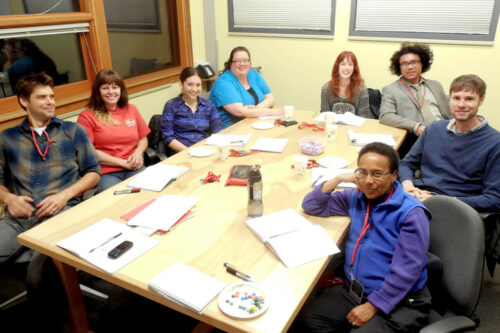 Spring Facilitator: Dominique Brillanceau
Upon reading her very first sentence, with its decoding of each word and the world that emerged from them strung together – "Thumbelina begins traveling on her lilypad" – Dominique Brillanceau knew that words were not only utilitarian but unlocked many worlds: the ones in books but also ones she could create. Since then, she has always written in journals, short stories and poetry. Born and raised in France, she remembers her first year in the U.S and her weekly letters home where she wrote her observations and critiques of the new culture. Enamored with English – so much simpler than French – she taught English as a Second Language for 30 years at Portland Community College. She writes every day, the challenge being to use the fewest words to express as much as possible. To her, Prompt means pushing her creativity to bring many worlds forth and together in a short time.
A Note on the Theme
Our spring Prompt workshop will be focused on the theme of family stories and biographies. We know there are many people out there who are interested in documenting a treasured story from their family or community.
While this workshop will focus on memoir and non-fiction writing, anyone is welcome to join and write in whatever genre they'd like!
Here's what past Prompt participants had to say…
Regardless if you've been writing for eons or have never shared within a group this experience is not to be missed.
Take this workshop! Whether a serious writer or a writing enthusiast, the instructional style, the group dynamics and the orderly but casual transition from one activity to another, allow for valuable creative instruction.
My experience in this workshop has provided me better access to my creativity.
Frequently Asked Questions
8 weeks seems like a long time. Why 8 weeks?
Prompt is a special program designed for folks who want to improve their writing and build community with fellow writers. In 8 weeks, you'll generate tons of new writing, gather feedback from others, and revise a piece for future publication. It's definitely a sprint, but folks have told us it's worth it!
What if I have to miss a session?
Simply let your facilitator know. Your facilitator can offer you a self-directed make-up session you can complete at your convenience. 
What if I don't like the workshop?
The first Prompt workshop is FREE! If you don't enjoy the first session, Write Around Portland will refund you or apply some or all of your workshop fee toward a tax-deductible donation. 
I don't know if this workshop is right for me. How do I decide?
Prompt participants do NOT need to be professional writers or have written anything in the past! This workshop is designed to be as flexible as possible, so everyone from very experienced to very new writers will get a ton out of this experience. We encourage you to give it a try!
Didn't find your answer?
Get in touch with us!
info@writearound.org
503-796-9224