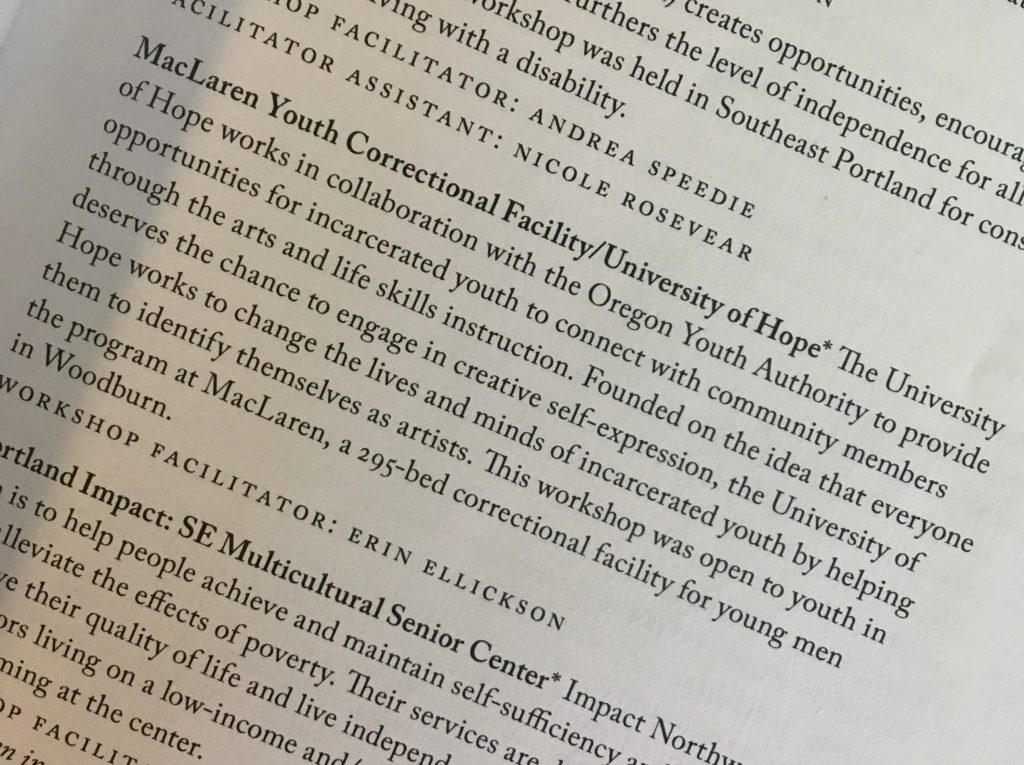 The [youth] said it was one of the most important workshops they did in helping to empower them and making them feel like they could achieve more. Write Around Portland just needs to exist in our facility.

– Kathleen Fullerton, Hope Partnership Project Coordinator at MacLaren
Interview by Write Around Portland Development Director, Allison Specter. Transcribed by Write Around Portland Spring Intern, Mya Cyr.
On March 14, 2019 we interviewed Kathleen Fullerton, Project Coordinator for Janus Youth Program's Hope Partnership at MacLaren Youth Correctional Facility. Kathleen has been overseeing the programming of Hope Partnership since 2010 and has been instrumental in bringing Write Around Portland's writing and publishing program to the youth at MacLaren.
Since 2010 Write Around Portland has held 16 workshops with the Hope Partnership for 191 youth incarcerated at MacLaren Youth Correctional Facility.
Kathleen is excited for this May as her daughter will be getting married, and her son and daughter-in-law will be welcoming a new baby, possibly within the same week! Congratulations to Kathleen and the Fullerton family!
Can you tell us more about the Hope Partnership and how it first got started?
Hope Partnership was started as an idea by youth themselves. The youth at MacLaren wanted to do more with their time when they weren't working or going to school. They wanted to know if they could have music groups, art classes and leadership opportunities.
Around 2008 the youth wrote a proposal to the Oregon Youth Authority, and they called it The University of Hope. They had staff members who really helped them work on a proposal. Oregon Youth Authority thought it was a good idea, and one of the very first activities brought in was a Write Around Portland workshop. It was the youth themselves that brought Write Around Portland into MacLaren.
Hope Partnership is unique in that it exists inside the correctional facility, whereas most non-profit organizations do not provide services until after youth are released. The Hope Partnership brings transition services, workshops in the arts, and life skills classes inside the correctional facility so youth receive services while they
are incarcerated.
October 2010 was when we really got going. We received 3 years of funding through an Americorps grant, and we changed the name to Hope Partnership. In addition to Write Around Portland, we began to
bring in theater groups, improv, radio journalism and other activities.
We know that the arts give people new outlets and ways to express themselves and to identify. For many youth who are gang-involved or crime-involved, we are taking something out of their life, and we have to replace it with something. The idea is that rather than wait to give the youth services and activities when they get out, Hope Partnership brings community into the facility to help with development and to help youth build new networks before they get out.
When our three years of funding was coming to end with Americorps, we wanted to continue the program and we were having a lot of success. The Oregon Youth Authority was not able to allocate staff or funding for it. Oregon Youth Authority was already contracting with Janus Youth Program for other services, and Janus stepped in to oversee the program, provide staff time and funding.
Hope Partnership continues to be youth owned. We still have a youth advisory council and youth leadership.
What Role has Write Around Portland played within the Hope Partnership?
Write Around Portland is one of the hallmarks of this whole partnership. We have done 16 workshops over the years, and every workshop has a different feel because the volunteer facilitators change, and each volunteer is so great. Each group ends up having their own culture.
It's really fun writing with these guys and listening to them write. Often it starts out kind of negative, and to see their writing progress into something optimistic, or just finding their groove. One kid, it was very obvious that he had spent a lot of time outside and in the woods. He was able to really capture that in his writing and every time he wrote it took you there. It's just a transformative place that Write Around Portland creates. Writing and writing together is a powerful thing. I also like writing with them too. It's really fun for me to write, and for the guys to get to see me differently too. They get to know our staff on a different level.
Because we do have guys who are here for a long time, they often want to repeat the workshop. To also get new people in the workshops, I am able to tell a guy that wants to take the workshop again, "Well you can but you got to bring a new person to the group." For guys who this may be their first workshop or they don't really know what it's like to be in a group with other guys from other units, they can be hesitant. This way they have a familiar face, an older guy who's mentoring them in the room, and they're a little more likely to give it a chance and to stick with it.
Since we are limited in the number of programs we can hold due to staffing, I was questioning, should we keep doing Write Around Portland? One of our youth, he said, "No, no, no, you have to keep doing it, you have to keep doing it. That's the first workshop I did that led me to believe that I could be a writer."
So many of the guys said it was one of the most important workshops they did in helping to empower them and making them feel like they could achieve more. Write Around Portland just needs to exist in our facility.
What is the overall impact of having programs like Write Around Portland in correctional facilities?
Having arts programming in any facility setting is really necessary and important. We are trying to help people fill in the gaps they're missing in their life because of a variety of reasons: poverty, trauma, lack of resources, marginalization. That's why turn-around schools have bold arts programs; because it's so good for developing skills and confidence.
Write Around Portland, in particular, helps our youth with the ability to take and give positive feedback. That's why I love the facilitators at Write Around Portland. They really model how to give good feedback. For somebody who is not used to hearing many things that are good, this is transformational.
The facilitators also help our guys to think critically about what somebody is writing about and saying. Because so much of our guys' lives are spent on the surface in high stress mode, you don't really get to stop and ponder what you think about anything. The facilitators help our youth think about what they like and why they like it.
What I love most about the workshop with Write Around Portland is that it's quiet, just the sound of pens scratching on paper that really puts things on pause. Our brains can just calm down, and in correctional settings there are so few spaces to feel calm. Our kids can be in this kind of trauma-induced alert state because they don't feel very safe. With Write Around Portland they are in a room where for a couple of hours, they feel safe and supported and calm. That's just healing for the brain and the emotions they're going through.
Once they start feeling safe, and they are sharing their writing, they are surprised at how similar their stories are, and how we all have struggles. And a lot of the humor too – that's even a commonality that we find similar things funny. There is that connection.
Are there any particular stories or highlights that stand out for you when you think about Write Around Portland's program?
You know a lot of the guys don't really believe they are going to be published in a book until they see it. That goes to how many promises are unkept for them. It's an interesting view into their world. I see them hold the book and they just hold it like it's a magical thing.
Anytime you are inside a fence, the number one thing you are feeling is that you have been banished from the community. Through the book, they belong to something bigger than themselves, and even bigger than our facility, because they see all the other writing from all the workshops around the city. I will tell them there are workshops happening all around the community and you are a part of that. We also talk about the larger readings happening through Write Around Portland, and we host a smaller reading here at MacLaren for the guys.
They are always trying to find everyone's writing in the books. One of our youth has had a quote on the back of the book. That kind of history is important; to see that people have come before them and have done this seriously and it means something. It means something to belong to a community.
A very special thanks to Kathleen Fullerton, the Hope Partnership and every writer at MacLaren Youth Correctional Facility who has participated in a workshop with us over the past 9 years. If you would like to share a message of thanks to Kathleen, please contact us. Stay tuned for more 20th anniversary interviews, and be sure to join us for Write Around Portland's 20th anniversary celebrations.