Find Write around portland anthologies on the shelves of your favorite bookstores
For two decades, Write Around Portland has teamed up with some of the best Portland bookstores to diversify Oregon's literary arts.
Our free creative writing workshops bring in Portland writers from all walks of life – many of whom have never written in a group setting. Most face multiple barriers to the arts – such as poverty, oppression, chronic illness, or incarceration – and have never dreamed of having their writing published in print.
Our anthologies – collections of work that are created and honed in Write Around Portland workshops – hold stories and ideas that broaden and enrich a literary culture that is often dominated by those with the most privilege. By carrying our anthologies alongside well-known authors, local Portland bookstores help to elevate under-represented voices and bring more equity to the local landscape.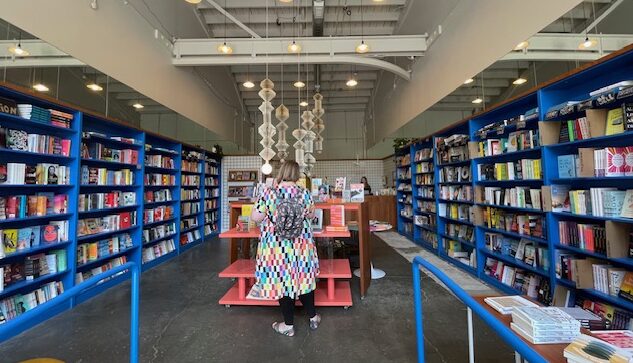 This spring, you can find our recently released 60th anthology, Through a Kaleidoscope, on the shelves of six beloved bookstores all over the Portland, Oregon, area:
In downtown Portland, you can find our books at Powell's Books (as well as on their website), and at Broadway Books in NE Portland. Both of these iconic independent bookstores have been carrying our anthologies since the early 2000s!
In SE Portland, you can find Through a Kaleidoscope at charming Belmont Books and the new-and-blue Up Up Books (see photo above). In SW Portland, you'll find it at Annie Bloom's in delightful Multnomah Village. Head to North Portland and you'll find it at Two Rivers Bookstore in St. Johns.
Thank you to these amazing booksellers who are helping to amplify diverse and necessary Oregon writing.