As part of the Write Around Portland experience, every participant gets their very own journal. We always write by hand in our workshops, and journals provide each person with a private space to be creative and vulnerable. Participants are also welcome to take the journal with them and keep it after the workshop ends. We want to encourage them to write whenever the urge strikes!
We give out hundreds of journals each year in our free creative writing workshops – the vast majority of which are donated by Write Around Portland supporters. As we prepare for our fall workshops, we're stocking up on journals by hosting a community journal drive! It's an easy and inexpensive way to support our work. Here is everything you need to know to take part and help us continue to provide this essential writing tool to our participants!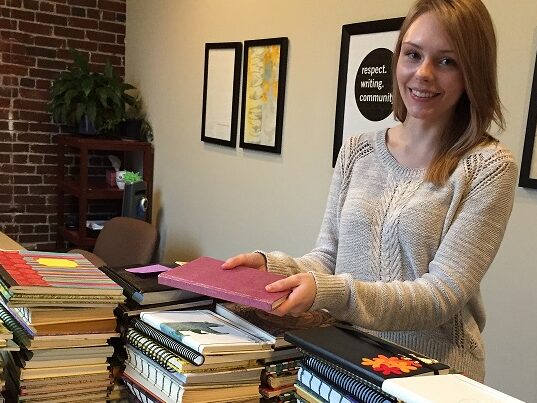 How can I help?
Gather some journals!
Doing any back-to-school shopping? Toss a handful of journals or notebooks in your cart!
Cleaning and decluttering around the house or office? Set aside any unused journals you find buried in closets and desks!
Looking for a simple service project for your book club or hobby group? Put the word out and collect as many journals as you can!
What makes a great journal?
Hard cover or soft cover? Both great!
Lined paper or plain? Doesn't matter.
Best size? We can use a variety of sizes but nothing too small – at least 5" x 7" or larger.
Plain or fancy? We know that some journals are very eye-catching. Images and words are okay, however please keep in mind that we avoid journals with political or religious statements, or images that are graphic, suggestive, or feature drugs or alcohol.
It is also important the journal is unused, so make sure all the pages are blank!
Who uses the journals?
We host our free creative writing workshops in a variety of settings, where the journals get in the hands of individuals who are sometimes new to the idea of creative writing. We've held workshops for people living on low incomes, experiencing houselessness or incarceration, living with illness or disability, or recovering from trauma.
Where can I drop off the journals?
This is the really fun part! We've partnered with some of our favorite bookstores in Portland, Oregon, to be journal drop-off locations. As if helping your favorite literary nonprofit wasn't enough of an incentive, donating gives you a great excuse to stop by one of these cherished bookstores:
Annie Bloom's Books (7834 SW Capitol Hwy)
Broadway Books (1714 NE Broadway)
Two Rivers Bookstore (8836 N. Lombard)
If you prefer to come see us at the Write Around office, please make an appointment by calling us at 503-796-9224. Staff are working hybrid schedules.
What about a receipt for my donation?
Absolutely! Email us at info@writearound.org with:
Your full name
Address
Number of journals donated
Estimated value of your donation
Write Around Portland is a 501(c)(3) nonprofit organization and all donations are tax-deductible to the extent allowed by law.
Short on time? Make a donation!
When you make an unrestricted gift, we'll purchase needed writer supplies on your behalf! Make your donation today!